Donations for 'MORE Than A Yard Sale' will be accepted weekdays beginning May 13th from 10AM to 3PM at the Yard Sale grounds. Other times may be available by appointment by calling 570-357-1688.
WRGN's famous 'MORE Than A Yard Sale' will be held on Saturday, June 1st from 8AM to 3PM at the Saxe Homestead - 211 Bethel Hill Road, Sweet Valley...Rain or Shine!
This event features household items galore, a book tent, a craft & material tent, a holiday tent (filled with decorations for use throughout the entire year), a children's toy tent, a baked goods stand, homemade ice cream and a food booth serving BOTH breakfast & lunch! There is also the popular plant stand, which will have flowers, herbs, and vegetable plants for your summer garden.
We need your items to help make this year's sale a success. We do not accept: clothing, large appliances, TV's old computers & upholstered furniture.

Monetary donations are also being accepted from individuals and businesses for the Yard Sale. Contact Sharon Cease at: 570-256-3572 for sponsorship information.
Got food? Yes we do! Breakfast, lunch, & Parry's Homemade Ice Cream! This year's flavors will be: Vanilla, Chocolate, Raspberry, Orange Swirl, Mint Chocolate Chip, Cookies & Cream, Coffee Crunch, and Coconut...Come and get it, because it sells out FAST!
There will be much more going on at the MORE Than A Yard Sale, so take the time and come join us!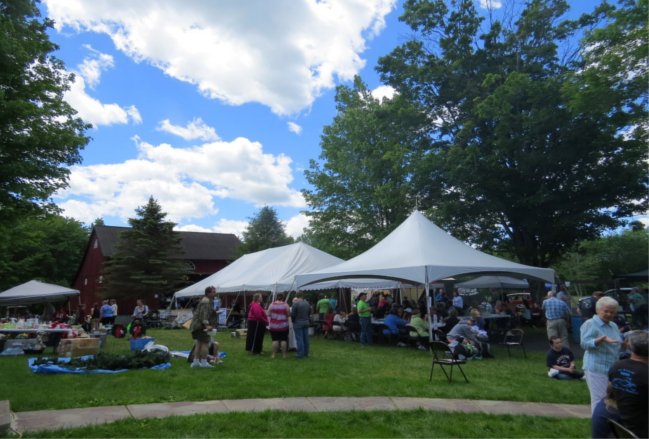 WRGN's MORE Than A Yard Sale is co-hosted by Art & Barb Saxe and Ray & Sharon Cease and their HUGE team of volunteers. An event of this size cannot happen without the support of faithful volunteers. If you are able to help before the sale - receiving items, pricing items, setting up tents, etc... call WRGN at: 1-800-245-3688. Our volunteers work hard, but also have a great time and get to meet other WRGN listeners.
We also need YOU to attend the event on Saturday, June 1st & support WRGN through your purchases. All proceeds benefit WRGN, Christian Radio - your Good News Network since 1984!
WRGN's MORE Than A Yard Sale - 211 Bethel Hill Road, Sweet Valley (off of Rt. 118)
Get directions here:
View Larger Map