Donations for 'MORE Than A Yard Sale' will be accepted weekdays beginning May 14th from 10AM to 3PM at the Yard Sale grounds. Other times may be available by appointment by calling 570-357-1688.
WRGN's famous 'MORE Than A Yard Sale' will be held on Saturday, June 2nd from 8AM to 3PM at the Saxe Homestead - 211 Bethel Hill Road, Sweet Valley...Rain or Shine!
This event features household items galore, a book tent, a craft & material tent, a holiday tent (filled with decorations for use throughout the entire year), a children's toy tent, a baked goods stand, homemade ice cream and a food booth serving BOTH breakfast & lunch! Ruth Moase (host of 'In The Garden' - heard Friday mornings during 'Wake Up Right') heads up the popular plant stand and will have flowers, herbs, and vegetable plants for your summer garden.
We need your items to help make this year's sale a success. We do not accept: clothing, large appliances, TV's old computers & upholstered furniture.

Monetary donations are also being accepted from individuals and businesses for the Yard Sale. Contact Sharon Cease at: 570-256-3572 for sponsorship information.
Got food? Yes we do! Breakfast, lunch, & Parry's Homemade Ice Cream! This year's flavors are: Vanilla, Chocolate, Raspberry, Coffee Crunch, Orange Swirl, Cookies & Cream, Coconut, and Butter Pecan...Come and get it, because it sells out FAST!
There will be much more going on at the MORE Than A Yard Sale, so take the time and come join us!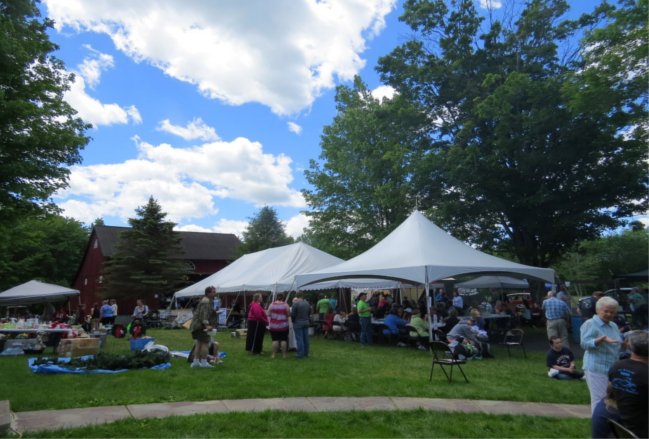 WRGN's MORE Than A Yard Sale is co-hosted by Art & Barb Saxe and Ray & Sharon Cease and their HUGE team of volunteers. An event of this size cannot happen without the support of faithful volunteers. If you are able to help before the sale - receiving items, pricing items, setting up tents, etc... call WRGN at: 1-800-245-3688. Our volunteers work hard, but also have a great time and get to meet other WRGN listeners.
We also need YOU to attend the event on Saturday, June 2nd & support WRGN through your purchases. All proceeds benefit WRGN, Christian Radio - your Good News Network for over 30 years!
WRGN's MORE Than A Yard Sale - 211 Bethel Hill Road, Sweet Valley (off of Rt. 118)
Get directions here:
View Larger Map